Logo Know-How
"Every sign or symbol that requires more than a few seconds to understand its message, has failed to achieve its elementary fucntion."
Joe Selame
Logo – what is it?
Logo is a graphical sign that represents a product or company. Logo symbol is a shortcut to the core idea or values of product/company. As a shortcut, it should be simple, clear, not complicated with many details. Logo should not be an illustration or picture. The simpler it is the better your client will remember it.
Purpose of a logo is to enable easy identification of your product or company, establish a positive association with it and distinguish it from your competitors.
Types of logo
There are three kinds of logos:
Logo mark - a graphical sign or symbol that represents a product or a company, its character and values. Usually only very popular companies with established brand and well known logo can use logo mark separately from logotype e.g. Nike that use its "Swoosh".
Logotype - a text (e.g. name of the product or company) written in a special font letters. Sometimes the letters are changed or stylized e.g. logo of the Coca-Cola company.
Logo mark + Logotype - the most popular and easiest to remember combination.
| | | |
| --- | --- | --- |
| | | |
| Logo mark | Logotype | Logo mark + Logotype |
Features of ideal logo
An ideal logo should be:
Attractive
Easy to remember - simple and clear, based on basic figures
Unique and distinctive from competitors
United with the nature of product / company
Applied to organization's needs e.g. adjusted to organization's financial possibilities (the more colors to print the more expensive it will be)
Easy to be effectively reproduced at different size, backgrounds and using different printing methods (that's why gradients are not always recommended)
Ready to be used in different variations - one color as well as full color, negative one color and negative full color.
Logo variations
A logo is usually used in basic color version. There are also different variations that might be useful in other situations e.g. black and white for fax documents. In addition to the basic version there is usually a grayscale, black and white and negative version of logo. If the logo contains gradients than there is a version with and without a gradient.
All these variations are very helpful when the logo needs to be reproduced on different backgrounds and materials using different methods e.g. redesigning web-page from a light color to a dark color background. A logo mark can not be used with gradient when printing on pens or making banners (plotting from foil).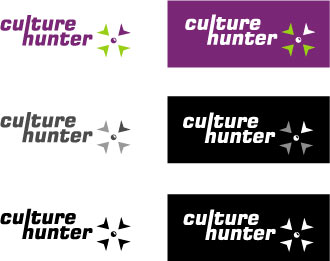 Logo FAQ: Frequently Asked Questions
What information should I provide before you start to design my new logo?
To create professional logo design, we will ask you for information like:
name of your product or company, its purpose, your slogan if you have one.
how you are going to use your logo (for web, printing or both purposes).
whether you have some ideas about what should your logo should look like, your prefered colors and whether you want a gradient in your logo (smooth changes of colour, ) or not.
any other additional information you want us to know, that you find important for logo design e.g. values you want to express in logo, information about your target group (are your potential customers attracted by new hi-tech or traditional things, what field do they work in, what is their lifestyle), etc.
Who owns the copyright of the final logo?
You do. After you pay and receive the final logo, you become the owner of all copyrights. That means you can freely use, copy and edit provided logo design. That includes also registering the logo. We will not offer your design to other clients. We only reserve the right to present your logo in our portfolio.
Copyrights to other design samples that were created for you in the logo creation process remain property of TulipDesign.
Can you redesign my existing logo?
Yes, you just need to provide us with the latest version of your logo, and send to us the same information that is required for designing new logo (see above). We will propose some concepts (according to the chosen package) based on your existing logo.
How will I receive my new logo design?
You will receive your new logo by e-mail, provided it is not too big (usually files have less than 2 MB, which is generally acceptable for e-mail attachments). However, we can also put the files in password protected directory on our server, in case the files are too big for email or if you wish so. Then you can download them yourself using any Internet browser.
What other design services can you provide for me?
We can also create for you:
business cards,
letterhead,
envelopes,
infographics,
icons,
box shots,
occasional cards (e.g. Christmas, Easter, Halloween, company anniversary),
brochures and leaflets,
posters,
roll-up stands,
banners.
We can provide examples of our portfolio of these products on your request. In addition to this offer, we also deliver other design related services, such as preparation for print shop or consultancy on your corporate image.
What if I am not satisfied with proposed logo?
As we are aware that visual preferences are a subjective matter, we appreciate that you might have different expectations and ideas than the logos we propose. Therefore, we provide several different designs of logo in the first round. In case you do not like any of these designs and decide not to chose any logo, you can resign from your order. We have right to keep the project deposit in such a case.
After resignation you can start a round where we can avoid the proposals you did not like originally.
What if I have my own idea for the logo?
You are welcome to provide us with ideas you want us to use in your logo. You can also let us know how strongly we should consider your design idea. Then we can create one or more design proposals based on your idea. The rest of proposals will be independent from your idea so you compare and choose what suits you best.
What is the difference between logo for printing and for web?
Logos that are going to be printed needs to be saved in CMYK color format. They require much higher resolution (300 dpi for raster printing or curves) and need to be saved in certain standard print formats as TIFF, EPS, PDF.
Web logos require a much smaller resolution, because they only need to be displayed on screen (72 dpi). They should be in RGB color format (screen display is RGB color format). You should also know that while converting from RGB to CMYK you may loose some colors (especially bright orange and bright green) and that colors will appear more flat.
What color format do you provide the logos in?
We provide the logo in CMYK (used for printing) and RGB (used for web) colors.
In case of more questions, please contact us. We will be glad to answer you.